Work Smarter With SmartFarm Systems
Bin Inventory Monitoring
On Site Alarm Management
Livestock Inventory & Performance Tracking Software
Feed Mill Integrated Ordering/POS/AR Software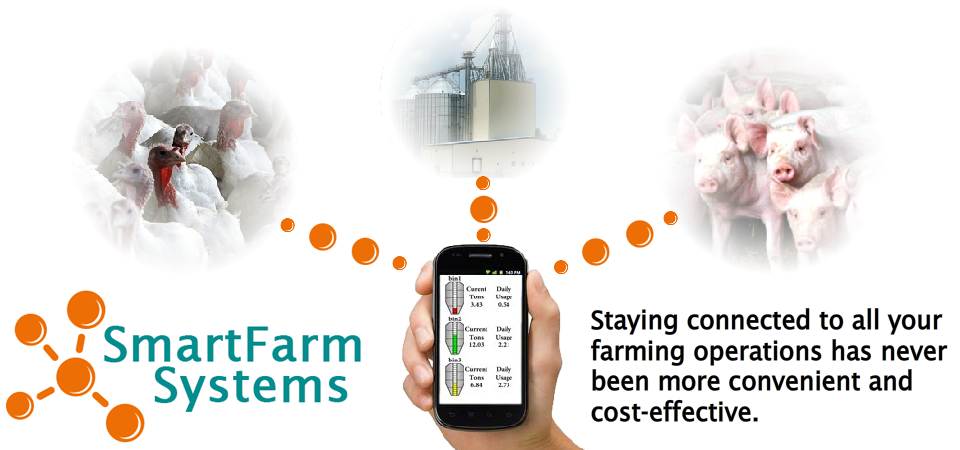 View our online demo here.
Feed Bin Monitoring
We have specialized in level monitoring systems technologies for many years. Our system has been developed, tested and proven to work on feed bins across many different farms. Our level monitoring and management systems are used to monitor both bulk solid and liquid inventories in feed bins and or silos on farm sites, ingredients bins and tanks at mill locations and can even be used in other industrial environments. We currently offer the most cost-effective level monitoring system on the market. If your business requires the accurate reporting of inventory levels, SmartFarm Systems offers a reliable solution. Find more information here.
Alarm System Management
Our on site farm alarm system offers the most state of the art farm alarm monitoring system on the market. All of our systems are checked daily to confirm functionality. With our system you have the ability to view and configure your farm monitor from any device with Internet connectivity. Receive alerts via text, email and or phone (cell or land line). If your farm site requires an alarm system, SmartFarm Systems can help get your farm site connected. Find more information here.
Livestock Inventory & Performance Tracking Software
Tracking livestock inventory, calculating, organizing and storing performance numbers is a huge task. Let our software help you do all these things! From placement to market our software will keep track of all the events associated with a group of livestock. Having the ability to track performance, retrieve this information and export it to usable reports will help give your agribusiness the edge it needs. Find more information here.
Feed Mill Integrated Ordering/POS/AR Software
Our feed mill integration and software package will bring your feed mill operation to the next level. With the ability to schedule and send feed orders from our online ordering system directly into your mill control software saves you time and offers a great convenience. Our software also reads in detailed load out information from your mill control software. At that time our software will invoice the feed according to the detailed information it received. Our software also contains a full set of point of sale and accounts receivable tools. This solution is everything your mill needs to accurately order feed for livestock groups, generate invoices, receive payments and much more. Take your feed mill to the next level with this SmartFarm Systems solution! Find more information here.